E-learning solutions for shipping companies
A modern way to improve safety for maritime
SQLearn provides a modern way to improve safety for maritime. We are the first to use e-learning for the advancement of maritime training with flexible, interactive and reflective learning techniques. Our services include a library of e-learning courses and an e-learning system designed especially for maritime companies:
Certified e-learning courses addressing safety training needs available onboard and ashore,
Training management and detailed, real-time reporting of training activities of on board and ashore workforce,
Compliance with industrial and enterprise regulations,
Training related KPIs per vessel and per rank,
Reduction of costs as fewer work-related incidents will occur reducing overall costs,
Improve risk management as training contributes to identifying, understanding and eliminating risks.
Learn more
Training needs assessment
SQLearn's e-learning services for shipping companies in numbers
Hours spent attending courses
Vessel Learning Management System (VLMS)
VLMS is a web based e-learning system specifically designed for the shipping industry. VLMS is offered via VLMS box, a hardware solution for onboard training. VLMS box can be used either as an e-learning dedicated mini server or as a workstation. When used as a server, users can access e-learning courses within the local network on the vessel using their own PCs or dedicated workstations. When VLMS box is paired with a keyboard/mouse and a screen it can be used as a dedicated workstation. Using either method VLMS box allows users to access e-learning courses stored in VLMS box while their activity is synchronized with an ashore cloud installation called HQ LMS. HQ LMS allows the crew manager to manage and monitor the training process across the fleet in real time.
The system comprises of two main modules (sub systems):
The HQ LMS which is the main e-learning platform installation (ashore),
The vLMS, an e-learning platform installation per vessel that is able to communicate with HQ LMS in order to receive files (course or user data) and send back to HQ LMS user activity reports.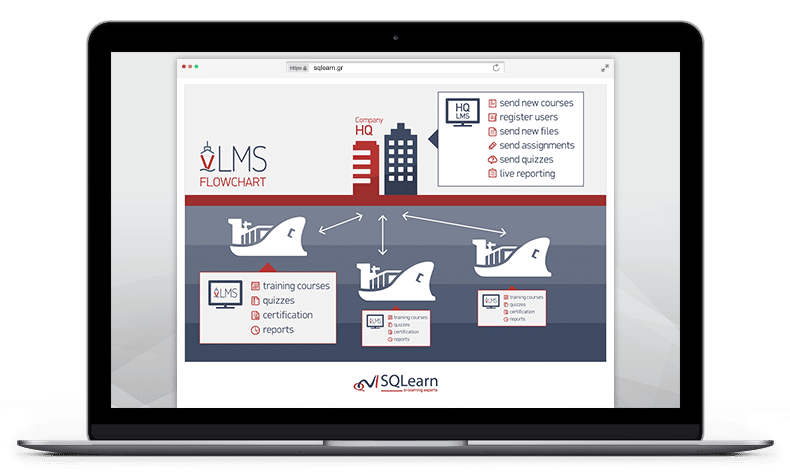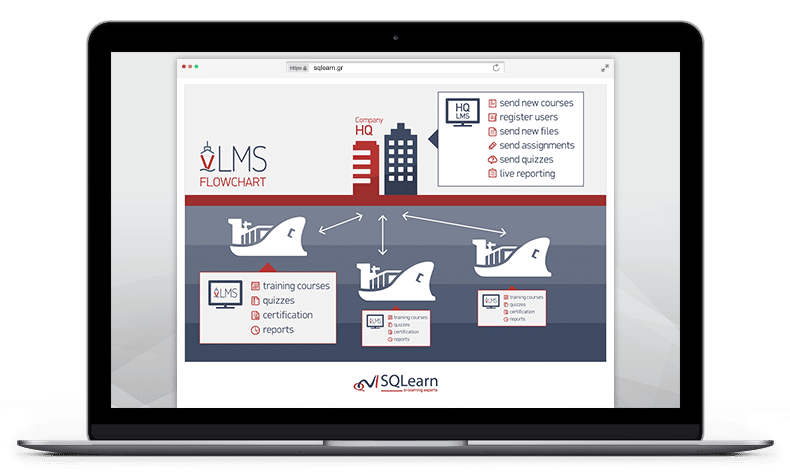 Integrated Training Matrix
A Training Matrix plugin is integrated in HQ LMS and automatically creates course enrollments based on a company's training matrix rules. Course enrollments are sent automatically to all vessels so that each seafarer can attend the courses that correspond to his current rank.
Custom e-learning courses development
SQLearn offers a variety of course types depending on the client's needs, material and use scenario. All e-learning courses developed by SQLearn have the following key advantages:
Design of e-learning material according to a company's specific needs arising from ship types, flag and trades,
E-learning course design and development based on international standards for e-learning like SCORM and using ABS model course structure,
Development of e-learning courses using the most popular, modern authoring tools.
E-learning course types for the shipping industry
This type of e-learning course is based on an incident report and gives users a detailed description of an incident using 3D video animation techniques. The goal is to help users understand the root cause of an incident and prevent similar incidents from occurring. The material can be used on board for reflective learning sessions and gives users an accurate representation of a situation or incident.
SQLearn develops e-learning material on Resilience related topics. The aim is the improvement of crew's (including all ranks) capacity to successfully deal with stressful personal or professional challenges or events and take effective decisions. SQLearn has have already started the development of 'resilience modules' for big shipping companies. The modules are customized according to each company's training approach and philosophy.
Design and development of custom e-learning courses that are based on your company's training material, procedures, ship types, trades and culture. The e-learning courses are designed to keep the learner's interest using multimedia elements, interactions and self-assessment modules.
SQLearn E-learning facilities, the E-learning software platform and E-learning courses, are certified by the American Bureau of Shipping (ABS) according to ABS Standards for Certification of Maritime Education Facilities & Training Courses.
SQLearn is also certified for providing e-learning services according to ISO 9001:2008 from TUV AUSTRIA HELLAS.