Vessel Learning Management System (VLMS)
Your e-learning content, everywhere!
SQLearn's VLMS is a web based e-learning system specifically designed for the shipping industry. VLMS is offered via VLMS box, a hardware solution for onboard training. VLMS box can be used either as an e-learning dedicated mini server or as a workstation. When used as a server users can access elearning courses within the local network on the vessel using their own PCs or dedicated workstations. When VLMS box is paired with a keyboard/mouse and a screen it can be used as a dedicated workstation. Using either method VLMS box allows users to access e-learning courses stored in VLMS box while their activity is synchronized with an ashore cloud installation called HQ LMS.  HQ LMS allows the crew manager to manage and monitor the training process across the fleet in real time.
VLMS can be used from any modern PC and helps the crew as well as the officers to access training resources and assessments. Content (e-learning courses) and user accounts are synced from HQ LMS to VLMS installations and consequent actions (reports) of the users onboard are sent back to HQ LMS. The technology used in VLMS allows seamless use in conditions with low internet connection speed or no internet connection at all. HQ LMS and VLMS communicate securely and effectively.
Fast, secure and flexible
Compressed

in order to reduce file size

Encrypted

to ensure only the designated system can read the transmitted files
The system uses a flexible network connection that can
Start/stop/resume

data transmission at any time

Use

full/limited or specific bandwidth
Every VLMS installation, as well as HQ LMS, include the following basic modules that can be used and configured depending on your company's needs:
Course viewer • Reports (fleet and per vessel) • Discussion forum (HQ) • Files download • Grading • Instant messages (HQ) • Events calendar • News and announcements • Quiz and Assessments • Wiki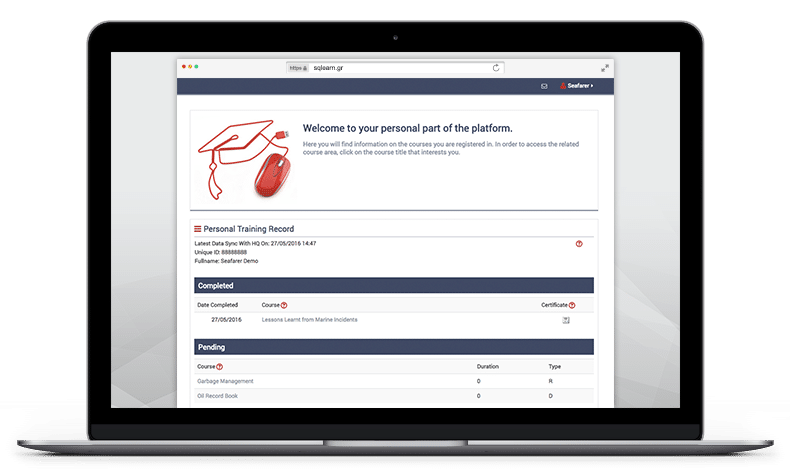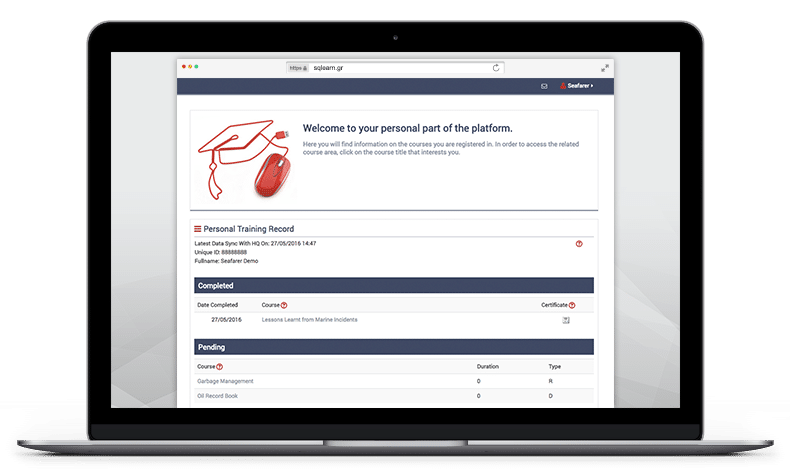 Integrated Training Matrix
Some of SQLearn's training matrix plugin features include:
Add available courses. Courses can be e-learning courses and ashore training sessions,
Course validity period can be added (e.g valid for 12 months upon successful completion and users that exceed this period should be enrolled again),
Courses are marked as either Recommended or Mandatory,
Import the company's active list and keep it up to date as required,
Import seafarers' ranks and sub-ranks (e.g people with the rank of Second Engineer pending promotion to First Engineer),
Create rules for courses assigned to each rank. Assignments of courses to seafarers will be created automatically based on their ranks,
Rules can be created per rank or per group of users (sub-rank) e.g eligible for promotion upon completing specific set of courses,
Real time reporting that represents current training status of seafarers onboard each vessel and on shore,
Complete reporting and training history. Custom reports using filters including date, course, rank,
Personal seafarer training record where each user can view: Completed and pending courses (e-learning and ashore training) • Print certificates • View complete training history per vessel.
[dt_benefits_vc columns_number="2″ style="2″ image_background="false" image_background_size="65″ icons_size="65″ header_size="h3″ content_size="normal" number="4″ orderby="name" order="asc" animation="tada" category="vlms"]
Integration to your company's workflow
The VLMS system is provided with a Software as a Service (SaaS) license. Technical support and monitoring of the system is performed by SQLearn ensuring that the involvement of your company's IT personnel is kept to a minimum. Hosting of HQ LMS is cloud based, SSAE16 SOC-2 Type II certified.
SQLearn e-learning facilities, the e-learning platform and e-learning courses, are certified by the American Bureau of Shipping (ABS) according to ABS Standards for Certification of Maritime Education Facilities & Training Courses.
SQLearn is also certified for providing e-learning services according to ISO 9001:2015 from TUV AUSTRIA HELLAS.